About Me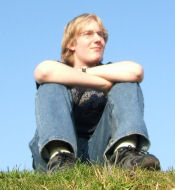 So... you want to know about me. Well, my name is Owen Rudge, as you might have guessed from the site, I'm 26 years old and I live in Scotland. I enjoy working with computers, and have done for most of my life. I am also interested in other things, such as film and television, entertainment/theatre lighting and sound, plus a few outdoor pursuits, including walking and cycling - I completed my Duke of Edinburgh Gold Award in 2005, which encourages young people to get out and try new things. Swimming is another of my hobbies when I can find the time! I recently completed a degree in Computer Science at the University of St Andrews in Fife, Scotland, and now work in software development for an energy company based in Aberdeenshire.
You can read more ramblings about my life on the blog.
The rest of this section contains a fair bit of information on my computers (well, some people find that kind of thing interesting), and work I have done on web sites and Open Source projects.
If there's anything else you really want to know about me, send me an e-mail or leave a message in the guestbook, and I may get back to you!
Sections
Profiles on other sites
You can usually find me lurking on the Internet as orudge, including the following sites: