OSPlus
Please note that this section of the site will not be updated any more. Development has been officially stopped since August 2002, and there has been no real development of OSPlus for some time before then.

OSPlus is a useful collection of utilities designed to extend DOS. It was initially designed to be a complete operating system, but was cut down to a collection of DOS utilities. At present this consists of a Control Centre, a file browser, an editor and a file viewer. They all have a graphical interface similar to the one below (click to enlarge).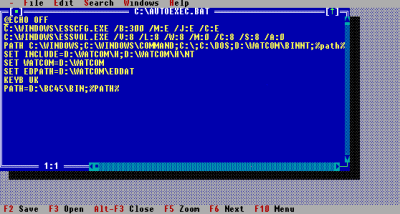 It may seem as if OSPlus is going nowhere - there haven't been any updates to the main OSPlus package since August 2000. However, I've created updated versions of the Text Editor and Disk Imager, and the source code is available too. Click here to go to the OSPlus - Open Source home page.
UPDATE (10/08/2002): Please note that I have now officially stopped OSPlus development. I will still maintain the Text Editor and Disk Imager, but the main OSPlus package will not be updated any more. It is no longer supported, although if you have a problem or question about it, I will still be happy to receive them and may be able to help you.
Introduction
What is OSPlus? What are the system requirements?
Download OSPlus
Try out OSPlus yourself
OSPlus Text Editor
I've released a standalone version of the OSPlus Text Editor.
Win32 Converters for Linux version of Text Editor
This link will let you download Win32 converters for the Linux version of OSPlus Text Editor 2.1 - see the readme for more details.
OSPlus Utility Kit
I've also released a collection of utilities, some command-line based and some with a GUI similar to OSPlus 1.0.
Latest Developments
See just what was added when, right back from the very first piece of code back in January 2000.
OSPlus - Open Source
Parts of OSPlus are now Open Source! I have decided to release the source code to anyone who wants to use, change, fix or help with it. I have set up a project at SourceForge, and have uploaded the source code to OSPlus Text Editor 2.0 and the Disk Imager. Find out more.
Older Information
DJGPP Port
A while ago (before the Open Source version), I started porting OSPlus to DJGPP. I'd ported the File Viewer and Control Centre. You can see the old information here, but now that OSPlus is Open Source, it isn't hard to port anyway. This isn't really needed.
File Type Database
Back in February (2000!) when I created the Directory Browser, I was looking for file type information. Here's the old page containing information on contribution file type info (although I must say the current file type list built into the Directory Browser hasn't changed much from this!!!)
---
Please get in touch if you have any queries.
LEGAL STUFF: Copyright © Owen Rudge 2000-2002. Most of the main OSPlus package is created with Borland C++ 4.51 and the Borland PowerPack for DOS. Borland software: Copyright © Borland International, Inc 1991-1995. All Rights Reserved. Uses FastGraph image technology: Copyright © Ted Gruber Software 1991-1993. All Rights Reserved. FreeGEM: Copyright © 1987 Digital Research, Inc. Copyright © 1999 Caldera Thin Clients, Inc. Copyright © 1999-2001 FreeGEM Programmers. Borland is a registered trademark of Borland International, Inc. Microsoft, MS-DOS and Windows are registered trademarks of Microsoft Corporation. All other trademarks acknowledged.